Empathy.
These eleven short stories are all very good stories and make us think twice about the daily happenings in our lives as we deal with others!
1. Today, I interviewed my grandmother for part of a research paper I'm working on for my Psychology class. When I asked her to define success in her own words, she said;
"Success is when you look back at your life and the memories make you smile."
2. Today, after my 72 hour shift at the fire station, a woman ran up to me at the grocery store and gave me a hug. When I tensed up, she realized I didn't recognize her. She let go with tears of joy in her eyes and the most sincere smile and said;
"On 9-11-2001, you carried me out of the World Trade Center."
3. Today, after I watched my dog get run over by a car, I sat on the side of the road holding him and crying. And just before he died;
he licked the tears off my face.
4. Today at 7AM, I woke up feeling ill, but decided I needed the money, so I went into work. At 3PM I got laid off. On my drive home I got a flat tire. When I went into the trunk for the spare, it was flat too.
A man in a BMW pulled over, gave me a ride, we chatted, and then he offered me a job. I start tomorrow.
5. Today, as my father, three brothers, and two sisters stood around my mother's hospital bed, my mother uttered her last coherent words before she died.
She simply said, "I feel so loved right now. We should have gotten together like this more often."
6. Today, I kissed my dad on the forehead as he passed away in a small hospital bed. About 5 seconds after he passed,
I realized it was the first time I had given him a kiss since I was a little boy.
7. Today, in the cutest voice, my 8-year-old daughter asked me to start recycling. I chuckled and asked, "Why?" She replied, "So you can help me save the planet." I chuckled again and asked, "And why do you want to save the planet?"
Because that's where I keep all my stuff," she said.
8. Today, when I witnessed a 27-year-old breast cancer patient laughing hysterically at her 2-year-old daughter's antics, I suddenly realized that,
I need to stop complaining about my life and start celebrating it again.
9. Today, a boy in a wheelchair saw me desperately struggling on crutches with my broken leg and offered to carry my backpack and books for me. He helped me all the way across campus to my class and as he was leaving he said,
"I hope you feel better soon."
10. Today, I was feeling down because the results of a biopsy came back malignant. When I got home, I opened an e-mail that said, "Thinking of you today. If you need me, I'm a phone call away."
It was from a high school friend I hadn't seen in 10 years.
11. Today, I was traveling in Kenya and I met a refugee from Zimbabwe. He said he hadn't eaten anything in over 3 days and looked extremely skinny and unhealthy. Then my friend offered him the rest of the sandwich he was eating.
The first thing the man said was, "We can share it."
The best sermons are lived, not preached.
---------------------------------------------------------------------------------------------------------------------------------
"Instead of getting married again, I'm going to find a woman I don't like and just give her a house." - Lewis Grizzard

"If a woman has to choose between catching a fly ball and saving an infant's life, she will choose to save the infant's life without even considering if there is a man on base." - Dave Barry

"The problem with the designated driver program, it's not a desirable job. But if you ever get sucked into doing it, have fun with it. At the end of the night, just drop them off at the wrong house." - Jeff Foxworthyfull time job, and we should treat it like one. If your boyfriend or girlfriend wants to leave you, they should give you two weeks' notice. There should be severance pay, and before they leave you, they should have to find you a temp." - Bob Ettinger

"My Mom said she learned how to swim when someone took her out in the lake and threw her off the boat. I said, 'Mom, they weren't trying to teach you how to swim.'" - Paula Poundstone

"The day I worry about cleaning my house is the day Sears comes out with a riding vacuum cleaner." - Roseanne

"I think that's how Chicago got started. A bunch of people in New York said, 'Gee, I'm enjoying the crime and the poverty, but it just isn't cold enough. Let's go west.'"- Richard Jeni

"If life was fair, Elvis would be alive and all the impersonators would be dead." -Johnny Carson

"Sometimes I think war is God's way of teaching us geography."- Paul Rodriguez

"My parents didn't want to move to Florida, but they turned sixty and that's the law." - Jerry Seinfeld

"Bigamy is having one wife or husband too many. Monogamy is the same." - Oscar Wilde

One Liners
"Marriage is a great institution, but I'm not ready for an institution yet." - Mae West

"Suppose you were an idiot... And suppose you were a member of Congress ... But I repeat myself." - Mark Twain

"Our bombs are smarter than the average high school student. At least they can find Kuwait." - A. Whitney Brown

"You can say any foolish thing to a dog, and the dog will give you a look that says, 'My Goodness, you're right I never would've thought of that!'" - Dave Barry

"If you can't beat them, arrange to have them beaten." - George Carlin

"When I die, I want to die like my grandfather who died peacefully in his sleep. Not screaming like all the passengers in his car." - Author Unknown

Advice for the day: If you have a lot of tension and you get a headache, do what it says on the aspirin bottle: "Take two aspirin" and "Keep away from children"

"Oh, you hate your job? Why didn't you say so? There's a support group for that. It's called EVERYBODY, and they meet at the bar." - Drew Carey
Why..???


Why do we press harder on a remote control when we know the batteries are getting weak?

Why does someone believe you when you say there are four billion stars, but check when you say the paint is wet?

Why doesn't glue stick to the bottle?

Why doesn't Tarzan have a beard?

Why do Kamikaze pilots wear helmets?

Why is it that no matter what color bubble bath you use the bubbles are always white?

Is there ever a day that mattresses are not on sale?

Why do people constantly return to the refrigerator with hopes that something new to eat will have materialized?

Why do people keep running over a string a dozen times with their vacuum cleaner, then reach down, pick it up, examine it, then put it down to give the vacuum one more chance?

Why is it that no plastic bag will open from the end on your first try?

How do those dead bugs get into enclosed light fixtures?

How come you never hear father-in-law jokes?
The following questions were in last year's GED (grade 12 equivalent) examination (These are genuine answers).



What is a turbine?




A. Something an Arab or Sheik wears on his head.





How is dew formed?




A. The sun shines down on the leaves and makes them perspire.





What guarantees may a mortgage company insist on?




A. If you are buying a house, they will insist that you are well endowed.





What are steroids?




A. Things for keeping carpets still on the stairs.




(Shoot yourself now, there is little hope.)





What happens to your body as you age?




A. When you get old, so do your bowels and you get intercontinental.





What happens to a boy when he reaches puberty?




A. He says goodbye to his boyhood and looks forward to his adultery.




(So true)





Name a major disease associated with cigarettes.




A. Premature death.





How can you delay milk turning sour?




A. Keep it in the cow.




(Simple, but brilliant)





How are the main 20 parts of the body categorized (e.g. The abdomen)?




A. The body is consisted into 3 parts - the brainium, the borax and the abdominal cavity.




The brainium contains the brain, the borax contains the heart and lungs and the abdominal




cavity contains the five bowels: A,E,I,O,U





What is the fibula?




A. A small lie.





What does 'varicose' mean?




A. Nearby.





What is the most common form of birth control?




A. Most people prevent contraception by wearing a condominium

Give the meaning of the term 'Caesarean section.'
A. The caesarean section is a district in Rome.

What is a seizure?
A. A Roman Emperor.
(Julius Seizure, I came, I saw, I had a fit.)

What is a terminal illness?
A. When you are sick at the airport.
(Irrefutable)

What does the word 'benign' mean?
A. Benign is what you will be after you be eight.
(brilliant)

Name the four seasons
Salt, pepper, mustard and vinegar.
Why Go to Church?
The Picnic
A Jewish Rabbi and a Catholic Priest met at the town's annual 4th of July picnic. Old friends, they began their usual banter.
"This baked ham is really delicious," the priest teased the rabbi. "You really ought to try it. I know it's against your religion, but I can't understand why such a wonderful food should be forbidden! You don't know what you're missing. You just haven't lived until you've tried Mrs. Hall's prized Virginia Baked Ham. Tell me, Rabbi, when are you going to break down and try it?"
The rabbi looked at the priest with a big grin, and said, "At your wedding."
~~~~~
The Usher
An elderly woman walked into the local country church. The friendly usher greeted her at the door and helped her up the flight of steps.
"Where would you like to sit?" he asked politely.
"The front row, please," she answered.
"You really don't want to do that," the usher said "The pastor is really boring."
"Do you happen to know who I am?" the woman inquired.
"No," he said.
"I'm the pastor's mother," she replied indignantly
"Do you know who I am?" he asked.
"No," she said.
"Good," he answered.
~~~~~
Show and Tell
A kindergarten teacher gave her class a "show and tell" assignment. Each student was instructed to bring in an object that represented their religion to share with the class.
The first student got up in front of the class and said, "My name is Benjamin and I am Jewish, and this is a Star of David."
The second student got up in front of the class and said, "My name is Mary. I'm a Catholic and this is a Rosary."
The third student got in up front of the class and said, "My name is Tommy. I am Methodist, and this is a casserole."
~~~~~
The Best Way To Pray
A priest, a minister and a guru sat discussing the best positions for prayer, while a telephone repairman worked nearby.
"Kneeling is definitely the best way to pray," the priest said.
"No," said the minister. "I get the best results standing with my hands outstretched to Heaven."
"You're both wrong," the guru said. "The most effective prayer position is lying down on the floor."
The repairman could contain himself no longer. "Hey, fellas," he interrupted. "The best prayin' I ever did was when I was hangin' upside down from a telephone pole."
~~~~~
The Twenty and the One
A well-worn one-dollar bill and a similarly distressed twenty-dollar bill arrived at a Federal Reserve Bank to be retired.
As they moved along the conveyor belt to be burned, they struck up a conversation.
The twenty-dollar bill reminisced about its travels all over the country.
"I've had a pretty good life," the twenty proclaimed. "Why I've been to Las Vegas and Atlantic City, the finest restaurants in New York, performances on Broadway, and even a cruise to the Caribbean."
"Wow!" said the one-dollar bill. "You've really had an exciting life!"
"So, tell me," says the twenty, "where have you been throughout your lifetime?"
The one-dollar bill replies, "Oh, I've been to the Methodist Church, the Baptist Church, the Lutheran Church."
The twenty-dollar bill interrupts, "What's a church?"
~~~~~
Goat for Dinner
The young couple invited their elderly pastor for Sunday dinner. While they were in the kitchen preparing the meal, the minister asked their son what they were having.
"Goat," the little boy replied.
"Goat?" replied the startled man of the cloth, "Are you sure about that?"
"Yep," said the youngster. "I heard Dad say to Mom, 'Today is just as good as any to have the old goat for dinner.' "
2
3
4
5
6
7
8
9
10
11
12
13
14
15
16
17
---
The haircut

A teenage boy had just passed his driving test and inquired of his father
as to when they could discuss his use of the car.

His father said:
"You bring your grades up from a C to a B average, study your Bible a little
and get your hair cut. We'll talk about the car."

The boy decided he'd settle for the offer and they agreed on it.

After about six weeks his father said:
"Son, you've brought your grades up and you have been studying your Bible, but
I'm disappointed you haven't had your hair cut."

"You know, Dad, I've been thinking, and I've noticed in my studies of the Bible
that Samson had long hair, John the Baptist had long hair, Moses had long hair,
and there's even strong evidence that Jesus had long hair.."

Love the Dad's reply!

"Did you also notice that they all walked everywhere they went?"

---
My goal for 2016 was to lose just 10 pounds … only 15 to go ...
----------------------------
Ate salad for dinner … Mostly croutons & tomatoes ... Really just one big, round crouton covered with tomato sauce ... And cheese ... FINE, it was a pizza ... I ate a pizza …
---------------------------------
How to prepare Tofu:
1. Throw it in the trash.
2. Grill some Meat.
-----------------------
I just did a week's worth of cardio after walking into a spider web ...
---------------------------
I don't mean to brag but … I finished my 14-day diet food in 3 hours and 20 minutes ...
-------------------------
A recent study has found women who carry a little extra weight live longer than men who mention it ...
---------------------------
Kids today don't know how easy they have it ... when I was young, I had to walk 9 feet through shag carpet to change the TV channel ...
---------------------------------
Senility has been a smooth transition for me ...
-------------------------
Remember back when we were kids and every time it was below zero out they closed school? Me neither.
------------------------------------
I may not be that funny or athletic or good looking or smart or talented … I forgot where I was going with this ...
-----------------------------------
I love being over 50 … I learn something new every day … and forget 5 others ...
------------------------------
A thief broke into my house last night … He started searching for money … so I woke up and searched with him ...
--------------------------------
My dentist told me I need a crown … I said, "You bet, pour mine over rocks" …
-------------------------
I think I'll just put an "Out of Order" sticker on my forehead and call it a day ...
-------------------------------
The Fasting & Prayer Conference includes meals.
--------------------------

Scouts are saving aluminum cans, bottles and other items to be recycled. Proceeds will be used to cripple children.
--------------------------

The sermon this morning: 'Jesus Walks on the Water.'The sermontonight:'Searching for Jesus.'
--------------------------

Ladies, don't forget the rummage sale. It's a chance to get rid of those things not worth keeping around the house. Bring your husbands.
--------------------------

Don't let worry kill you off - let the Church help.
--------------------------

Miss Charlene Mason sang 'I will not pass this way again,' giving obvious pleasure to the congregation.
--------------------------

For those of you who have children and don't know it, we have a nursery downstairs.
--------------------------

Next Thursday there will be try-outs for the choir. They need all the help they can get.
--------------------------

Irving Benson and Jessie Carter were married on October 24 in the church. So ends a friendship that began in their school days.
--------------------------

A bean supper will be held on Tuesday evening in the church hall. Music will follow..
--------------------------

At the evening service tonight, the sermon topic will be 'What Is Hell?' Come early and listen to our choir practice.
--------------------------

Eight new choir robes are currently needed due to the addition of several new members and to the deterioration of some older ones.
--------------------------

Please place your donation in the envelope along with the deceased person you want remembered..
--------------------------

The church will host an evening of fine dining, super entertainment and gracious hostility.
--------------------------

Pot-luck supper Sunday at 5:00 PM - prayer and medication to follow.
--------------------------

The ladies of the Church have cast off clothing of every kind. They may be seen in the basement on Friday afternoon.
--------------------------

This evening at 7 PM there will be a hymn singing in the park across from the Church. Bring a blanket and come prepared to sin.
--------------------------

The pastor would appreciate it if the ladies of the Congregation would lend him their electric girdles for the pancake breakfastnext Sunday.
--------------------------

Low Self Esteem Support Group will meet Thursday at 7 PM . Please use the back door.
--------------------------

The eighth-graders will be presenting Shakespeare's Hamlet in the Church basement Friday at 7 PM. The congregation is invited to attend this tragedy.
--------------------------

Weight Watchers will meet at 7 PM at the First Presbyterian Church. Please use large double door at the side entrance.
--------------------------

And this one just about sums them all up

The Associate Minister unveiled the church's new campaign slogan last Sunday:
'I Upped My Pledge - Up Yours.'
People can make a difference… Here are just a few examples:
The man who gave the shoes off his feet to this homeless girl.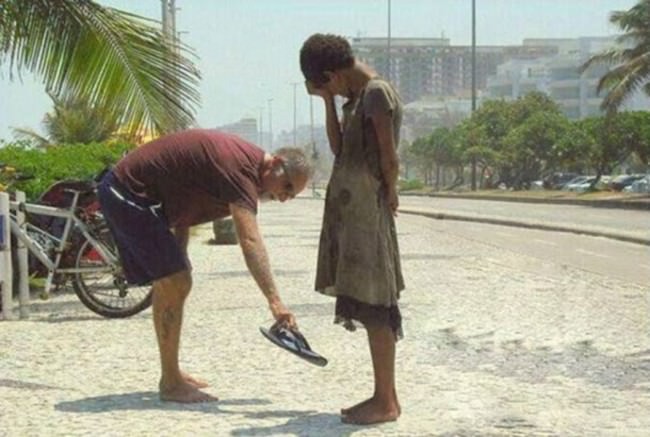 Source: oddstuffmagazine.com

This motorist that stopped to help an old man pass safely.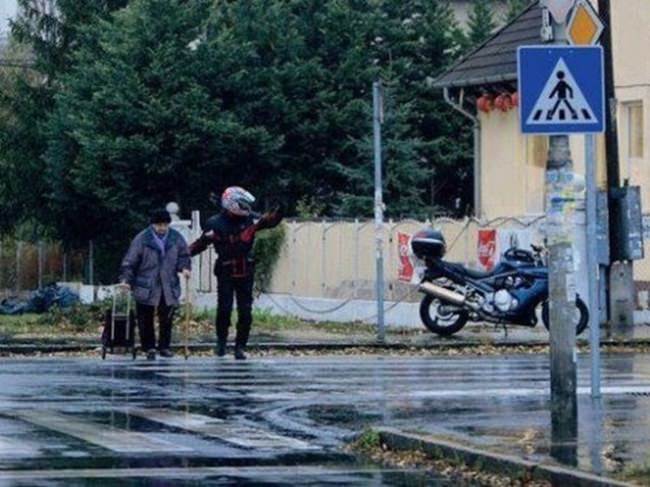 Source: pleated-jeans.com

This barber, who offers haircuts for the price of a single hug.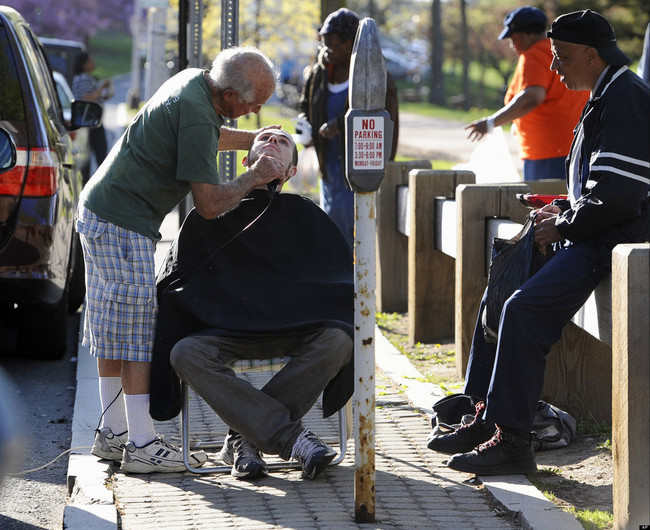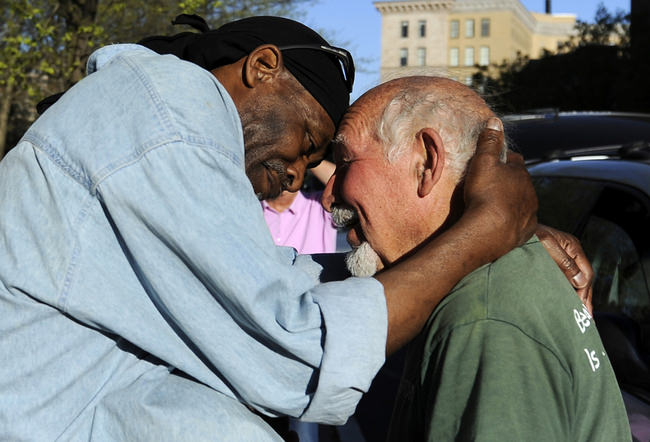 Source: boredomtherapy.com

This police officer who handcuffed himself to a woman to make sure she knew she'd have to take him with her.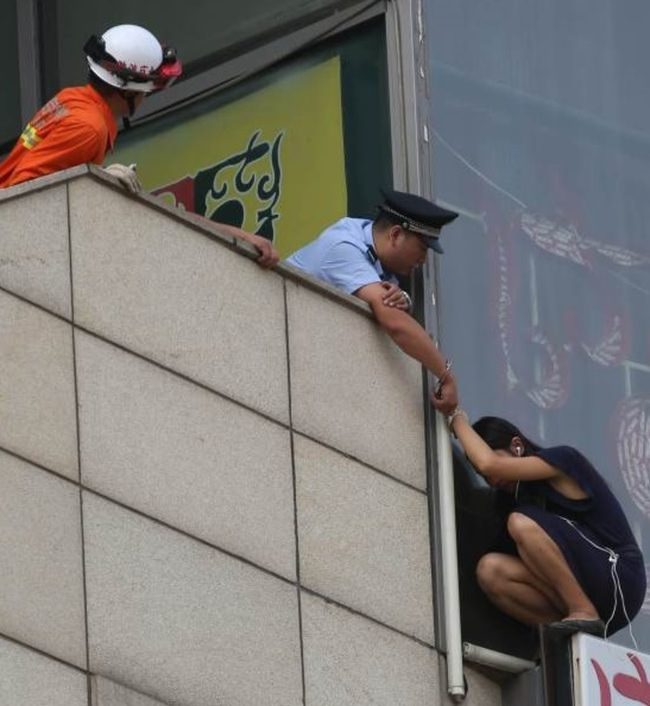 Source: boredomtherapy.com

The many people that helped make this boy's dream come true.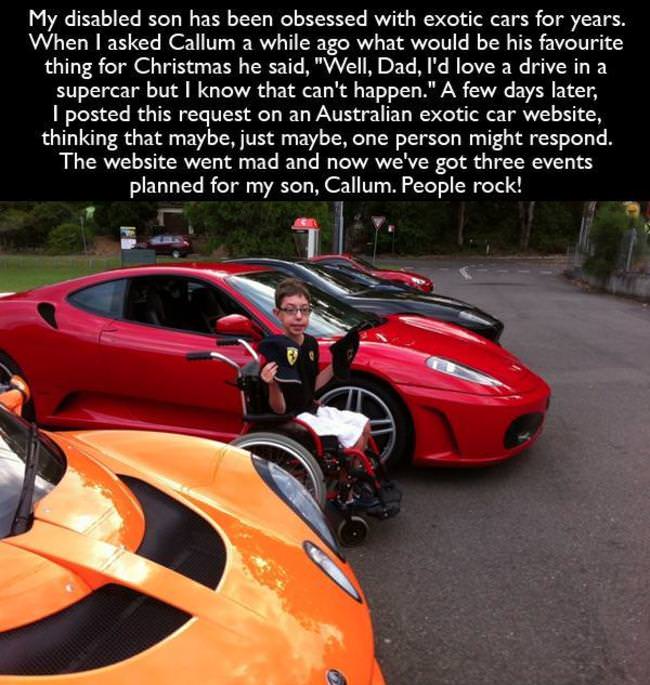 This dog owner who mourned by giving.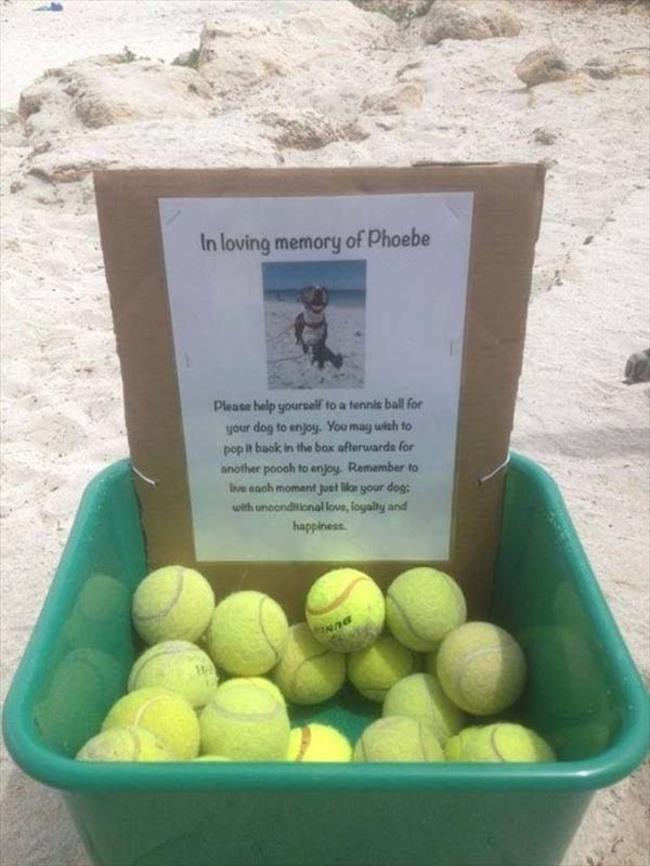 Source: boredomtherapy.com

This store employee who gives extra service.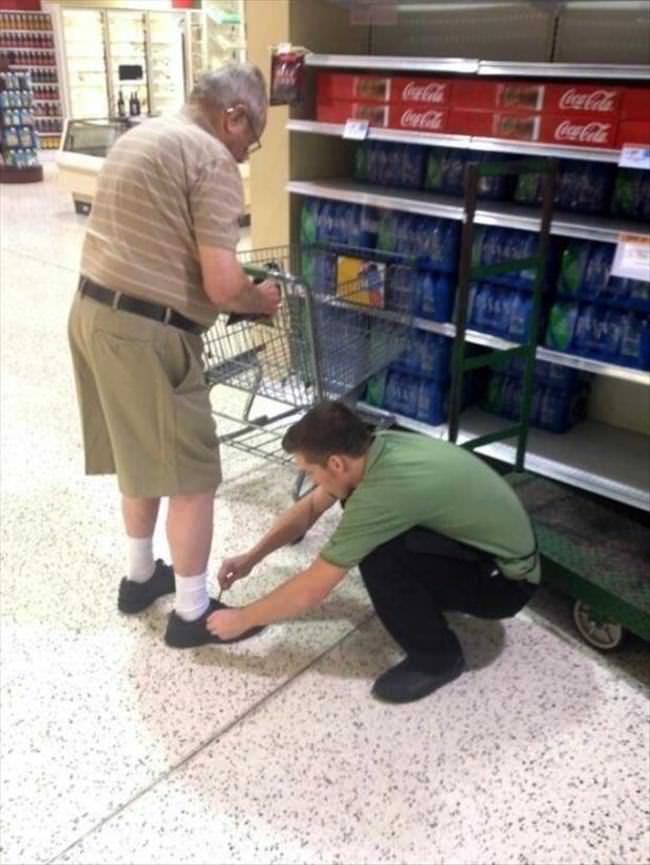 Source: boredomtherapy.com

The person who decided to put new tires on a stranger's car just because he needed it.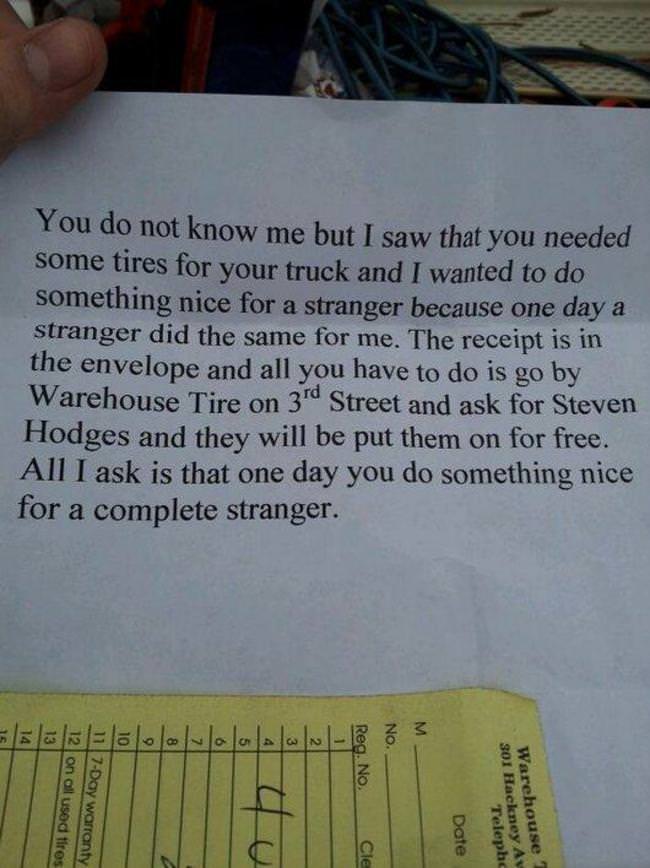 Source: fb-troublemakers.com

The crowd who decided a fan should be able to watch the show, no matter what.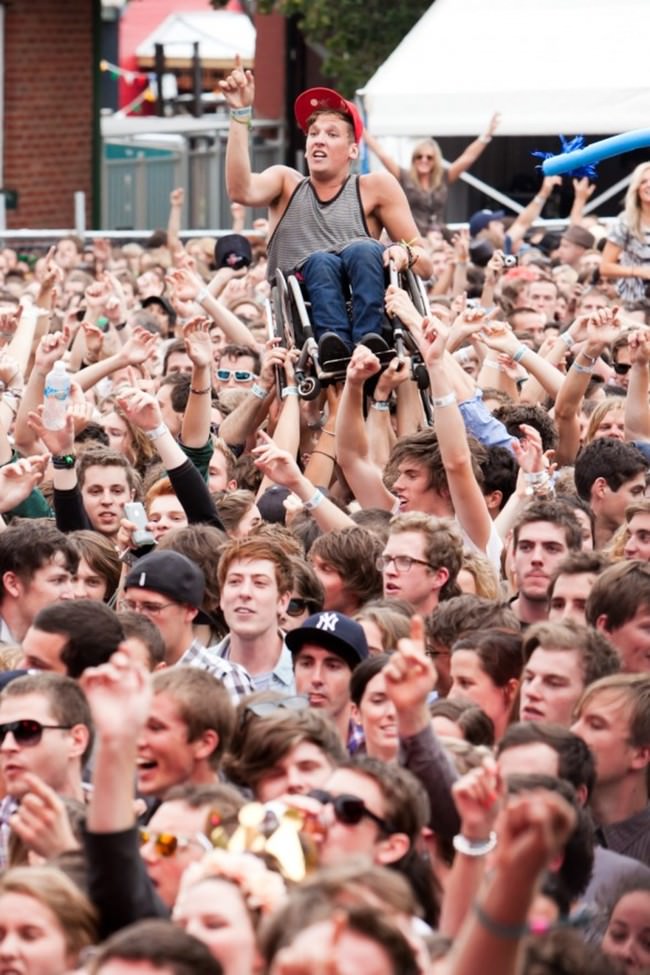 Source: boredomtherapy.com

This dry cleaning place that helps the unemployed for free.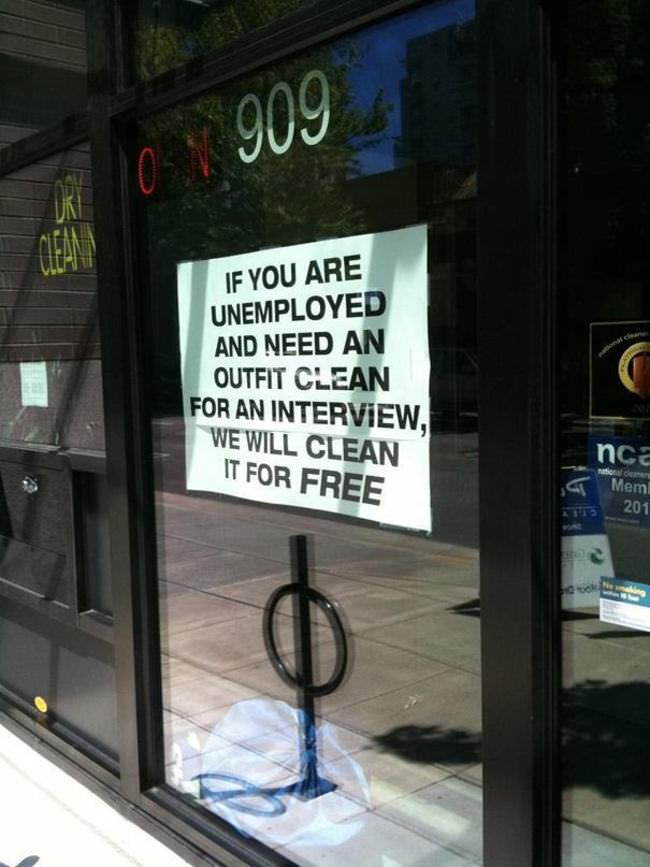 Source: pleated-jeans.com

These kids helping an injured member of their rival team to score.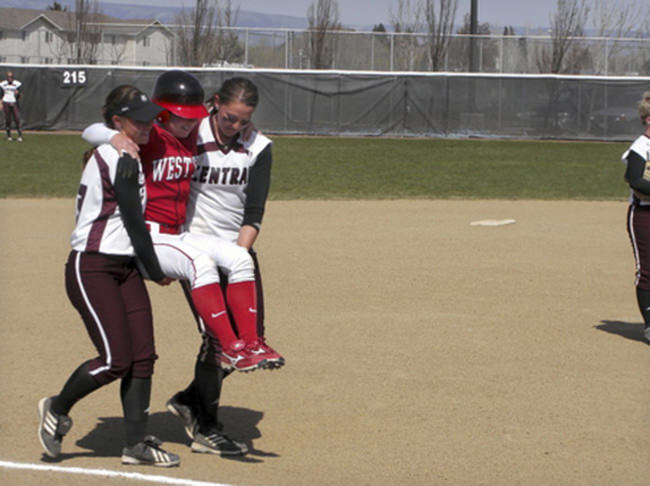 Source: boredomtherapy.com

The man who played for fun and gave his winnings away.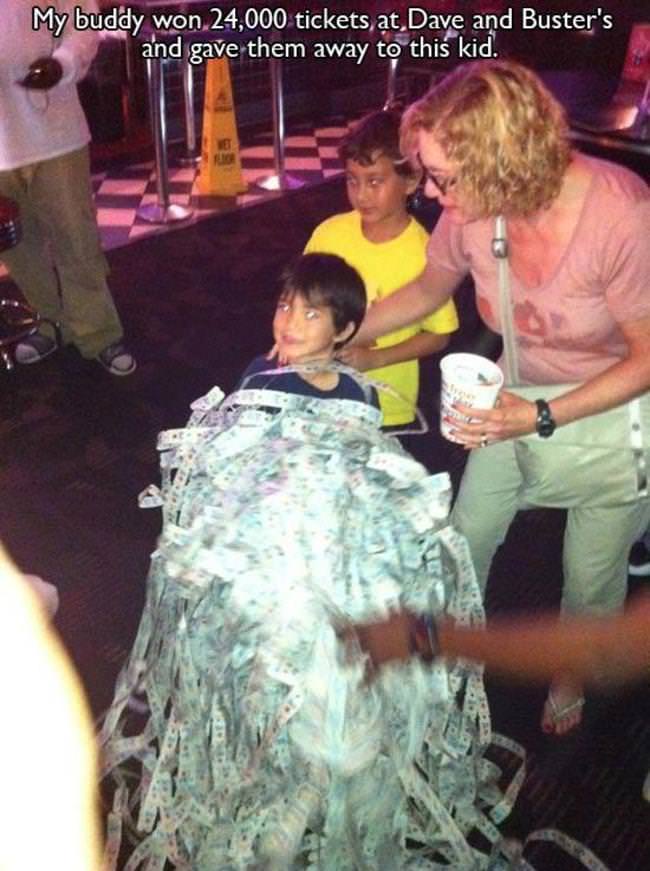 Source: fb-troublemakers.com

This man who missed his train helping this older lady with her bags.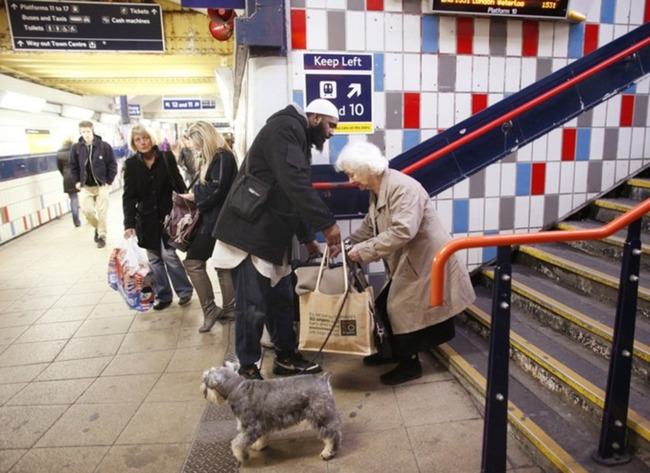 Source: boredomtherapy.com

This man who gave something to a homeless man no one gives - something to occupy his mind.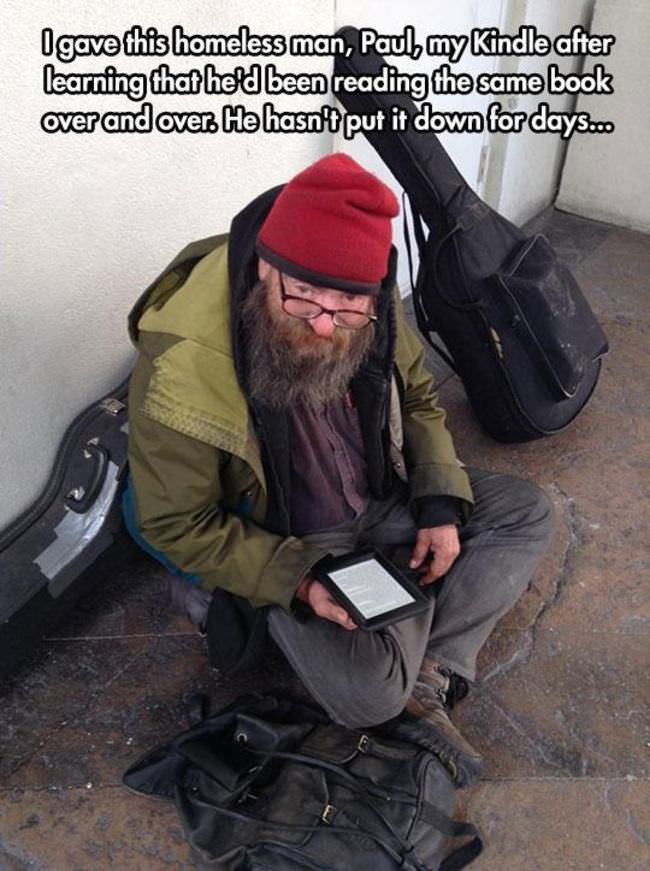 Source: pleated-jeans.com

And Dan, a man, who twice a week, buys coffee for every patient, nurse and doctor at local cancer centers.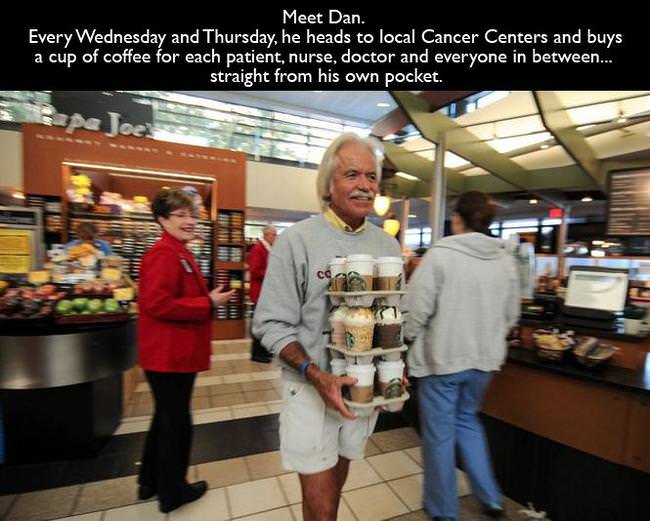 Source: nedhardy.com

The people at the animal hospital, knowing how hard it is to say goodbye.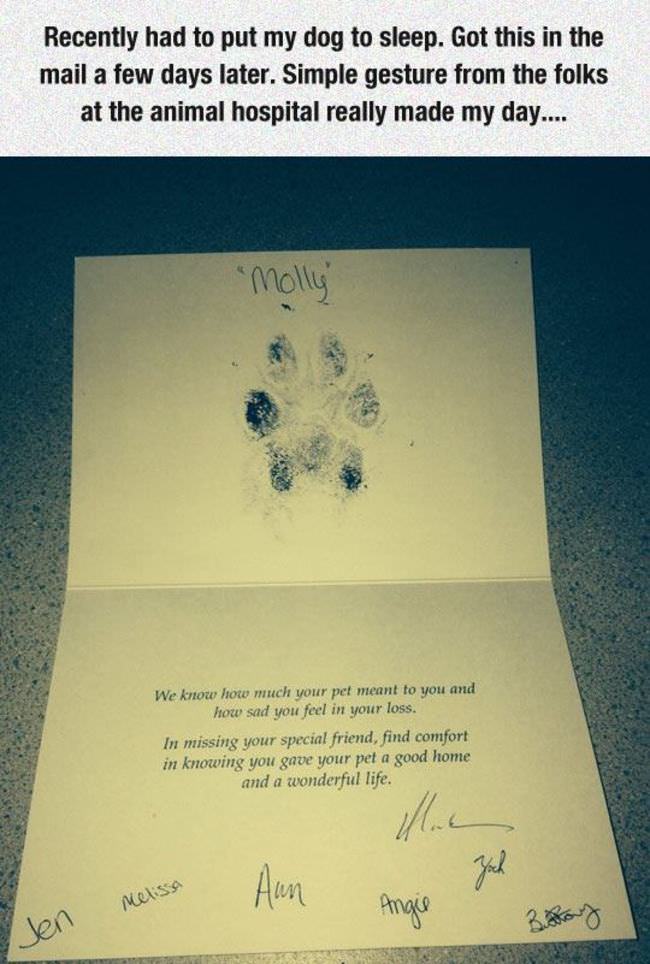 Source: boredomtherapy.com

This man who gave his umbrella away so this cat could have a dry night.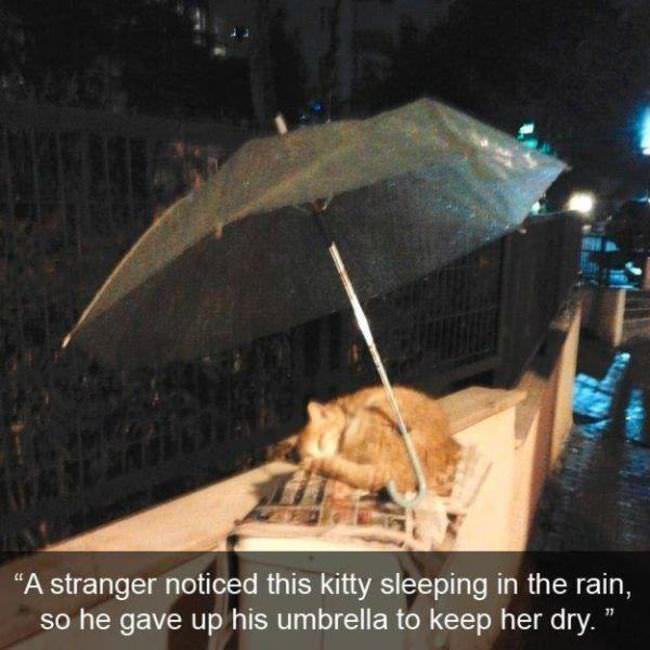 Source: pleated-jeans.com

The paramedics who took an elderly man to the hospital and then came back and finished shoveling his driveway for him.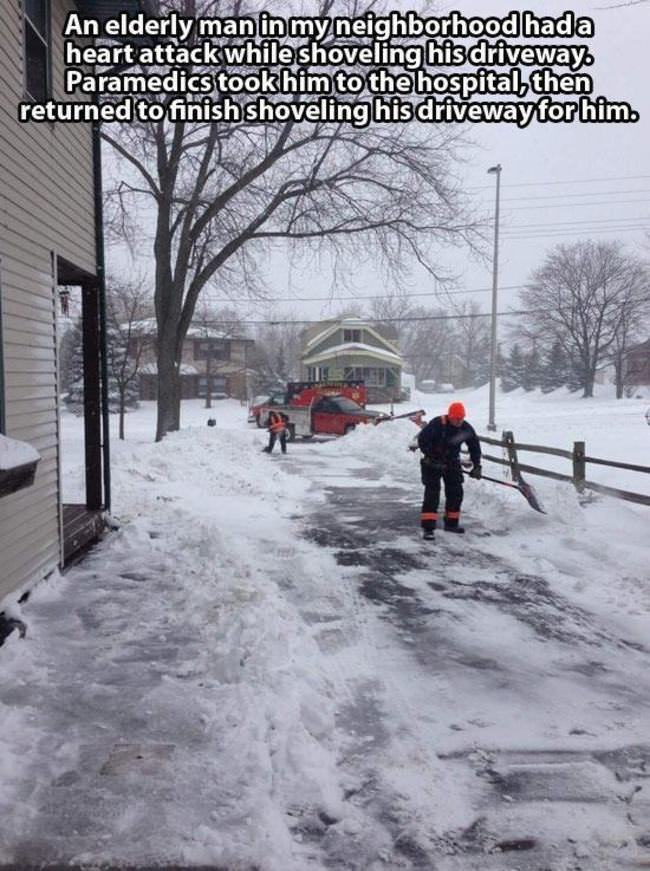 Makes you feel good, doesn't it…